Introducing Our 5-Inch Touchscreen all-in-one unattended Payment Terminal,
built to last in an outdoor environment 24/7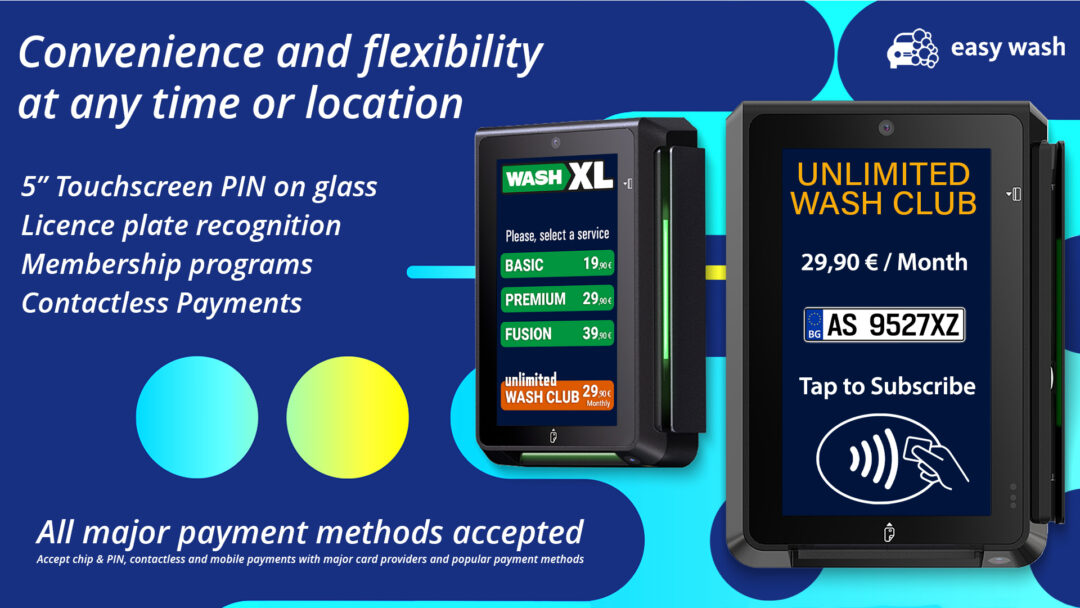 Euro Car Wash Oy, the leading payment solutions provider for car wash businesses in the Nordics, is thrilled to introduce the latest addition to our esteemed EasyWash brand – the cutting-edge 5-inch touchscreen payment terminal with versatile connectivity.
We take immense pride in our commitment to revolutionizing the payment experience in the car wash industry and beyond.
The magic of EasyWash, our innovative mobile app; it extends seamlessly to our web store and now to our payment terminal. Customers can effortlessly explore a wide array of subscription plans and one-time payment options, all in one convenient platform. With the flexibility we offer, every customer can find the perfect payment method that suits their preferences – just like they've come to love and trust with our renowned mobile app and web shop.
Our payment terminal has been crafted with the same level of excellence as our successful and highly-praised EasyWash app and web shop. Designed with ease of use and comprehensive operator functionalities in mind, the terminal seamlessly integrates into your car wash station operations. It's not just a payment terminal; it's a powerful tool that empowers you to deliver exceptional customer experiences and effortlessly manage your business.
With support for all the major payment methods, including contactless, mobile payments, pay-by-link, and QR code, as well as the convenience of recurring monthly subscriptions, tap to subscribe, our payment terminal is a true game-changer for car wash business.
Control and manage external devices
But that's not all – our payment terminal goes beyond conventional transactions. It boasts the unique capability to control and manage any external devices or peripherals. Imagine being able to effortlessly operate a self-service car wash or manage an electric vehicle charging station right from our payment terminal. The potential applications are vast, empowering you to create a truly connected and automated business environment.
In addition to its versatility, our payment terminal also comes with pre-authorization credits, empowering you to hold reservations and verify funds before finalizing transactions. This feature offers peace of mind for businesses dealing with bookings, rentals, or high-value goods and services.
Circle of convenience and excellence
Together with our beloved mobile app and automatic license plate recognition, our payment terminal completes the circle of convenience and excellence for both you and your valued customers. The synergy between these elements ensures that your business stays at the forefront of the industry, offering the most advanced, user-friendly, and efficient payment solutions available.
We are excited to present this game-changing solution to the market, and we believe it will elevate the customer experience and drive growth for businesses of all sizes. Stay ahead of the competition and elevate your payment experience with EasyWash's 5-inch touchscreen payment terminal.
Stay tuned for more updates, and don't miss the opportunity to be part of the EasyWash revolution. Contact us today to learn more about how our payment terminal can take your business to new heights!